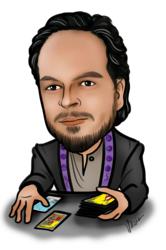 New York, NY (PRWEB) April 12, 2013
JuJuMagick.Com, Purveyors of Spiritual Goods, today announced a Virtual Tarot Study Workshop with Justin Page, D.Div. The sessions will be conducted on Thursdays beginning April 25, 2013 at 8:00-9:30 P.M. EDT, continuing weekly for 8 sessions through June 13, 2013. The registration fee is $ 140.00.
The sessions are designed for those interested in learning about the power and mysteries of Tarot and Tarot Card Reading. While the diverse histories and schools of thought about the origin of the cards will be explored, the class is designed to allow benefit from the Tarot in many ways.
Extremely limited registration (20 Students) is available for this popular series. Most attendees' participants attend via Skype® or phone in. Exclusive videos are made available to registrants who miss a week or want to refresh their knowledge years later.
According to JuJuMagick.Com's website, Page is "sensitive, responsible, emotional, realistic, and proactive….incorporating many schools of tarot thought." Page is a member in good standing and a signatory to the codes of the American Tarot Association.
Whether as a tool of divination, personal reflection or the powerful symbolism that accompanies us through life's journey– this series of classes has changed many lives over the years.
Subjects explored:
The 78 keys (22 Major Arcana, 56 minor arcana)

Use of traditional "spreads" to read Tarot, and creating originals

Elemental, astrological and mythical associations

Tarot reading for divination

Tarot reading for personal reflection

Tarot Magick and spellcasting
About Justin Page, D.Div.:
For over 25 years, Justin's accuracy and insight has astounded people from all walks and stages of life with his intuitive abilities.
Growing up in New York City, he started reading tarot cards when he was 8 years old. By the early 1980's, Justin had given literally thousands Tarot Card readings and became known as a consummate reader's reader. As a regular reader at a major "tea room" midtown New York City, catty-corner from and catering to customers of the world famous Macy's, he was expected to complete between 10 and 20 readings per day.
Hearing about Justin, the late renowned occultist Herman Slater (author of three canonical earth religion texts, the Magickal Formularies 1 & 2, The Book of Pagan Rituals and the "medium" of the highly controversial Simon Necronomicon) asked Justin to be the house reader for his Magickal Childe, which before it closed, was the largest Magick or witchcraft center in modern history. Justin was frequented by customers from all walks of life and fellow readers alike at Magickal Childe's well-known and exclusive psychic fairs. Justin also had a live call-in tarot show on N.Y.C. cable called "Uncle Justin: Tarot" in which he gave live readings and lessons. Later, as a student at N.Y.C.'s High School for the Performing Arts, Justin met future celebrities who would later remain devoted clients.
Justin is a consecrated high priest for several earth religious groups. He practices and teaches tarot, oil, candle and incense magic. His website is http://tarot-reader-nyc.com
About JuJuMagick.Com
JuJuMagick.Com, Purveyors of Spiritual Goods, is the leading spiritual portal for supplies and information related to Wicca, Witchcraft, Paganism, Druidism, Voodoo, and Ritual Magic. JuJuMagick.Com also offers readings and spellwork through the site.